"Why reinvent the wheel?"
"In my quest for a way to transport our two full-size Harleys on extended summ
er trips, I found the AmeriDeck system. This type of hydraulic loading system was something I had been researching for some time. I had even began conversations with a local welding shop to fabricate such a system for my pickup – but why reinvent the wheel?"
"With our AmeriDeck, SuperDeck III we can haul our Harleys in our 6.5 foot short bed pickup. Then, we can pull our truck behind our motor home. Now, when we set off for a five week long trip we have our bikes and we have enclosed transportation, too. We love the AmeriDeck system, it has plenty of power to load our bikes and it works beautifully. We have been asked about the system so many times that we now keep brochures handy."
Tom Potter
Satisfied AmeriDeck Customer
~~~~~~~~~~~~~~~~~~~~~
AmeriDeck SuperDeck III reviewed by Hot Bike magazine: LINK <<<
As motorcycle enthusiasts we try to put as many miles in the saddle of our bikes as possible. Sometimes however, while we might hate to admit it, it's necessary to load a bike onto a trailer or into the back of a truck. A couple of reasons might be if you find yourself stranded on the side of the road or you're making a long cross-country road trip and need to be at your destination in a hurry and fresh. Whatever the reason, there are many ways to transport a bike from one destination to another.
One of our local shops, Eightball Rods and Choppers (
eightballrodsandchoppers.com
) in Placentia, California, had a dilemma. It had recently built a raked and stretched chopper with a super-long girder frontend, so long (more than 9 feet), it wouldn't fit into the bed of the shop's Chevy dually truck when the guys needed to haul it to shows and events. Aside from the chopper, Eightball also serves as somewhat of a pit crew, towing legendary motorcycle land-speed guru Wink Eller's 14-foot-long, 180-mph-plus sidecar rig up and down the course at events like Bonneville and El Mirage. Eightball solved its problem by picking up a hydraulic loading system from AmeriDeck.
(Click the above link for the complete story.)
~~~~~~~~~~~~~~~~~~~~~
Oregon agricultural user:
Best Buy AmeriDeck Hydraulic Loading System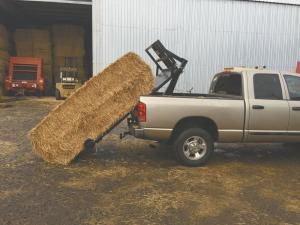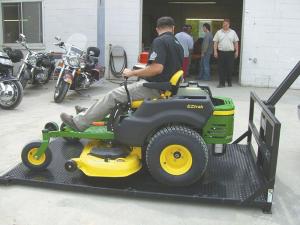 Skip Gosser, Aumsville, Ore.: "I love my AmeriDeck hydraulic loading system. I use it with several decks to haul motorcycles, large square hay bales and all sorts of materials for my business, farm and fun.
"The deck fits in a full-size pickup with either a 6 1/2 or 8-ft. bed. It includes its own electric-hydraulic system with a 150-amp breaker. Once installed, a hydraulic arm pushes the deck off and onto the ground. Once loaded, the arm pulls the deck back onto the truck. A system with the standard SuperDeck sells for $4,380 (updated) plus freight.
"You can select from various decks and options, from the 58 by 96-in., flat SuperDeck to the Choremaster with solid tapered sides, dual function dump gate and 40-cu. ft. capacity. You can even get a Van Body deck that can hold up to 2,000 lbs. of tools and materials and can be locked up and left at a job site. Multiple decks can be used with a single loading system. Just drop the deck on the ground and drive away.
"I can deliver a large square bale of hay to a farm and drop it off, even stack bales on end.
"You can haul any load under 2,500 lbs. I know a guy who rents out Smart Cars. He picks up and delivers them with his AmeriDeck. I use my Motorcycle Deck with my own motorcycles. I use a ChoreMaster for garbage. Just drop it in place and pick it up to haul away when it's full.
"The longer I have the deck system, the more uses I find for it. I don't even like lifting my pressure washer into the truck bed anymore. I just roll it on a deck, strap it down and raise the bed into place. Without a bed, the arm makes a handy lift arm. I've used it to swap out motors at a race or to pull on things.
~~~~~~~~~~~~~~~~
The AmeriDeck Hydraulic loading system is the smart solution to increase the versatility and utilization of your pickup. This one-of-a-kind system makes it possible for a full-size pickup to load heavy equipment and cargo from the ground and onto the truck bed with simple push-button operation. Four deck styles are available, including a dump bed variation.